last revised 03/02/10
In addition to the lathes, I own three antique milling machines that came out of watch- or instrument making factories, one horizontal (made by
Dixi Machines S.A.
, LeLocle, Switzerland), the other one vertical (perhaps also made by Dixi, or by Hauser), and the latest addition is a Wolf, Jahn & Co. Model 'A' miller.
A
ll take 8 mm horological (WW) collets (
Schaublin
type B8). All three machines came to me in a more or less workable mechanical condition, but in a sad cosmetic state.
The Dixi Milling Machine
Next to nothing is actually known about this type of machine. Even DIXI SA. don't seem to have any documentation about it. Similar machines were used to mill various recesses into watch plates. In any case, it was made for work on rather low and flat objects, considering the limited elevation of the spindle above the table. This table can be rotated over angle of about 270 degrees. Presumably there have been stops to limit the angle of rotation, but these are lost now. Workpieces can be fastened using the four T-slots or using a clamp operated by a toggle lever. All slides are operated by hand-levers and the movement is limited by micrometer stops.

The machine has been given a thorough cleaning and was carefully repainted. Actually, I am not sure about the original colour. Other machines I have seen, were either grey or some sort of pale-green, but I found this dark green rather pleasing and easy on the eyes.
In order to make the DIXI more useful for model engineering, I had a couple of raising blocks made for the spindle and fitted them with an eccentric lock. I have also replaced the lever operation for the z-axis with a screw-feed. I made sure, however, that these alterations are reversible and did not change the substance of the machine, so as not to detriment its historical value. In addition, I made micrometer stops for the swing of the table.

A countershaft was obtained from a flea-market and painted to suit the machine. The machine takes its power via this countershaft and set of idler pulleys from a 'Multifix' motor, which is mounted underneath the work bench.

The Hauser Milling Machine
As the DIXI, the Hauser miller really is a production machine, i.e. it would have been set up for a particular job with the various slide stops and then operated using the hand-levers. For one-off work this is not a very convenient arrangement. Also modern milling cutters tend to have far fewer teeth than in the old days, meaning that only one or two would be in contact with the work piece at any one time. I found that this makes hand-lever operation difficult and the cutters tend to 'hook' due to uneven advancement of the slides. This constraint, together with the rather limited movement of the slides and the restricted clearance under the spindlenose has resulted in this machine now sitting in storage and unrestored for some years.

The ball-bearing spindle, which is an exchangeable 'cartridge', such as those still made by Gepy S.A., is excellent though. Another drawback is that the rotary table, which would have been similar to that of the DIXI, is missing. One ideas was to adapt is as a surface grinder, the ways being reasonably well protected.

Hauser miller
from the right

Hauser miller
frontview

Hauser miller
from the left

The removable
spindle cartridge
Below are two pages from a 1913 catalogue entitled 'Precision Machines and Tools' (Präzisions-Maschinen und Werkzeuge). Strangely, this catalogue does not bear the manufacturers' name anywhere, though it shows pictures of their production facilities. The only vague clue to its origin is that it was printed by a well-established printing and publishing house in Goslar (Harz mountains, Germany). This may indicate that it could be a catalogue of the well-known precision machinery manufacturer Gebr. Thiel in not so far away Ruhla (Thuringia), who, being originally a watchfactory, started to make their own production machinery at about this time. The machines that were available in three sizes very much resemble the products of Dixi or Hauser.

Simple miller

Miller with powered
four-tool turret slide


The Wolf, Jahn & Co. Model 'A' Milling Machine
Various German manufacturers of horological machinery seem to have produced a small milling machine based on the 8 mm WW type headstock that slid in a dovetail. A most useful feature in some models is the integral rotary table that was driven by a worm, the worm-wheel being cut into the rim of the T-slotted table. The column was modelled like those in the early horological drilling machines, but later Boley machines had a more substantial casting. The advantage of the early models was that the throat clearance could be easily increased by raising blocks.
According to the information on www.lathes.co.uk., the Wolf, Jahn & Co. milling machine design seems to have been taken up by some British manufacturer and sold under the brand of Sigma. Eventually this evolved into the BCA miller, which still is in production today. The early Sigma machines appear to have been virtually identical to the Wolf, Jahn & Co. Model 'A' and I am wondering, since my machine doesn't bear a manufacturers' label and was obtained in the UK, whether it is not in fact a Sigma or George Adams machine.

Was machine was received in a rather worn state and required some cosmetic and mechanical restoration to achieve a serviceable state.


Tooling

All the machines take the standard 8 mm WW (or B8 according to Schaublin S.A.) type of tooling. A range of 'second league' collets are kept for use with drills and end-mills.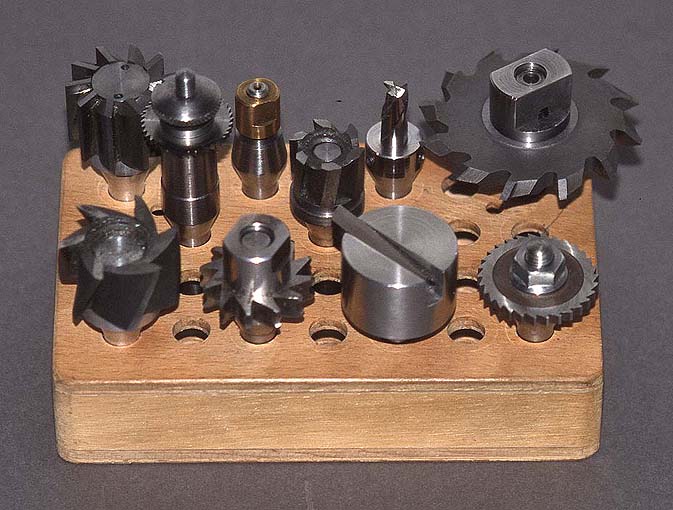 Spindle tools on 8 mm WW arbor

s
In addition, I obtained, or made from blanks (either antique or from Schaublin S.A.), arbors for many current and obsolete sizes of mills and slitting saws. Some years ago the remains of the workshops of a well-known Viennese optical factory (that went out of business some ten years earlier!) turned up on the flea-market and I got hold of various small shell- and other types of milling cutters.

Modern end mills are either held in a carefully bored-out holder and fixed with three set-screws, or in a suitably sized collet.

I also constructed a rather large boring-head to take the standard 8 mm boring bars and a micro boring head to take 4 mm tooling. In addition, a dividing attachment was constructed from various WW-lathe parts.

Contact:
webmaster at wefalck dot eu